The month of all new!
Here at Yockenthwaite, it's all change this month; June turns out to be the Month of all new!
We say goodbye and a huge thank you to Milly who is leaving us to have a baby and to Hazel, Lois and Phil, who have helped us out for the last fifteens months during Covid 19 lockdown restrictions.
Welcome back to Ellen, who has returned to work after maternity leave, and hello and welcome to David, Kitty, Simon and Marlene, who have all recently joined the Yockenthwaite team.
David, Simon, and Marlene will be busy in the kitchen milling oats, mixing, and baking our award-winning cereals. Kitty will be responsible for our sales and marketing. We're thrilled to have them on board and hope they all enjoy being part of the Yockenthwaite family.
Brand New Product!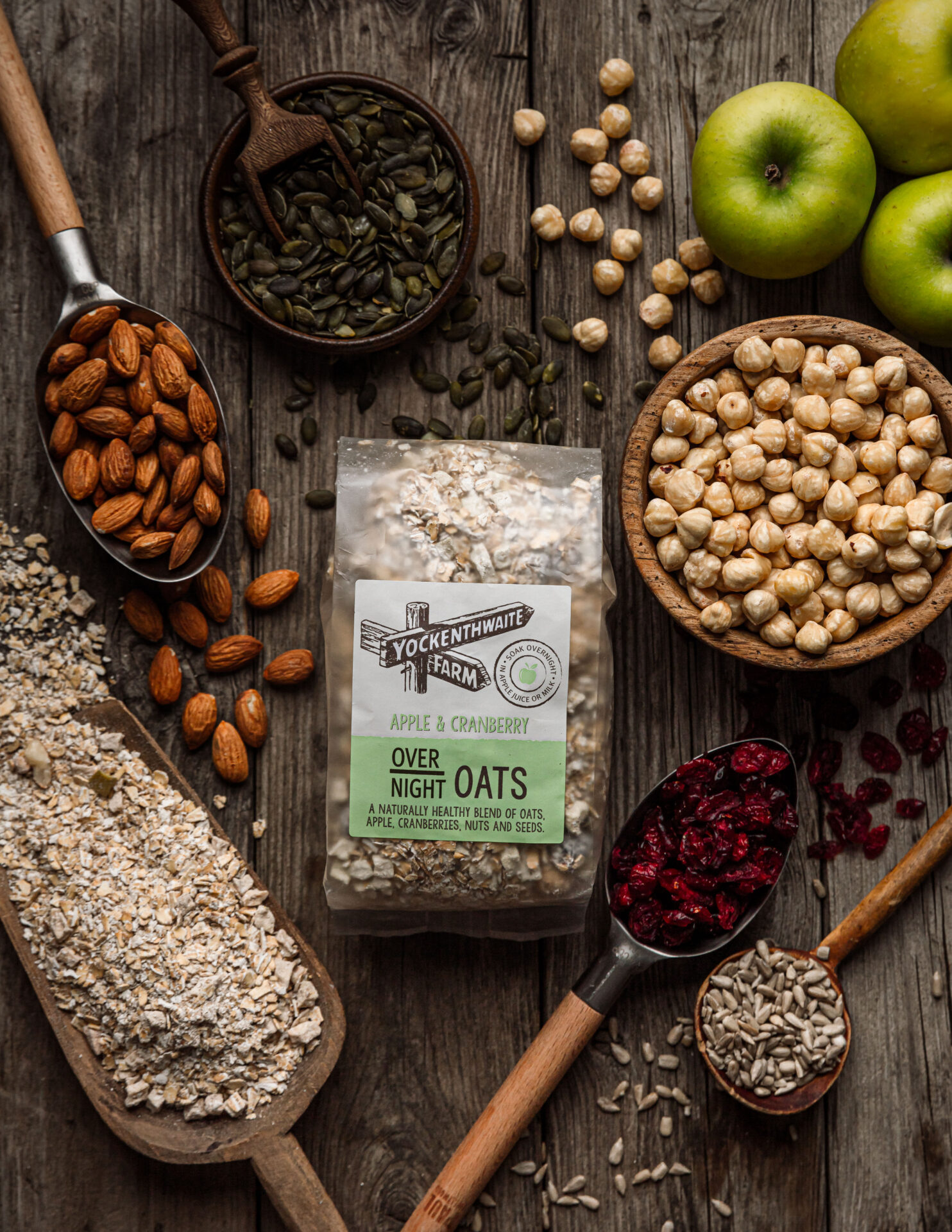 After many weeks of planning, tasting, re-tasting and tweaking, earlier this month we launched our brand new and delicious Apple & Cranberry Overnight Oats and we're super excited about this!
With so many pressures in the modern world, we think this simple and easy breakfast option is a must for everyone looking for a healthy and sustaining breakfast option and particularly those with a hectic daily lifestyle.
Our Overnight Oat mix is made with our 'Great Taste Award' freshly rolled oats, to which we have added apples and cranberries for sweetness and nuts and seeds for crunch.
To prepare, all you need to do is put a couple of spoonsful of the mix in a jar or suitable lidded container before you go to bed, add fruit juice or milk and a dollop of yoghurt and then replace the lid and pop in the fridge to soak overnight.
In the morning, stir it and eat it as it is, or add toppings of your choice for a fabulous portable breakfast. All that's needed for a nutritious and balanced meal, and a great start to the day, that's sure to keep the hunger pangs at bay!
Lights, Camera, Action! 
As many of you may know, Yockenthwaite has been one of the locations for filming for the second series of the popular TV drama 'All Creatures Great & Small' Heston Grange (aka Yockenthwaite Farm) being the fictional home of Helen Alderson (Rachel Shenton) who is courted by the protagonist James Herriott (Nicholas Ralph)
Like many viewers, we were captivated by the first series, not least because the drama captured the beauty and character of the Yorkshire Dales, our home and the local area; it really brings home how lucky we are to live in such a beautiful corner of the English Countryside.