'August brings the sheaves of corn, then the harvest home is borne'
The well-known children's nursery rhyme says 'August brings the sheaves of corn, then the harvest home is borne'   That's in an ideal world of course!  At the time of writing harvesting continues to be held up by the wet weather with frustrated producers desperate to get onto the land with the combines.
We don't have that to worry about on the farm at Yockenthwaite, because with thin soil we have no arable land, up in the hills all our hay is safely gathered in and hay timing tackle put away for another year, but the harvest situation does have an impact on our  granola business because we rely on premium quality grain (spelt/wheat and oats) to make our breakfast cereals, so we always keep a close eye on the weather.
In August, in between the showers, we managed to get all the sheep clipped, we still tend to say 'clipping time' rather than shearing even though we no longer use the old hand shears, these days it's electric shears.  Goodness knows how long it used to take in the old days!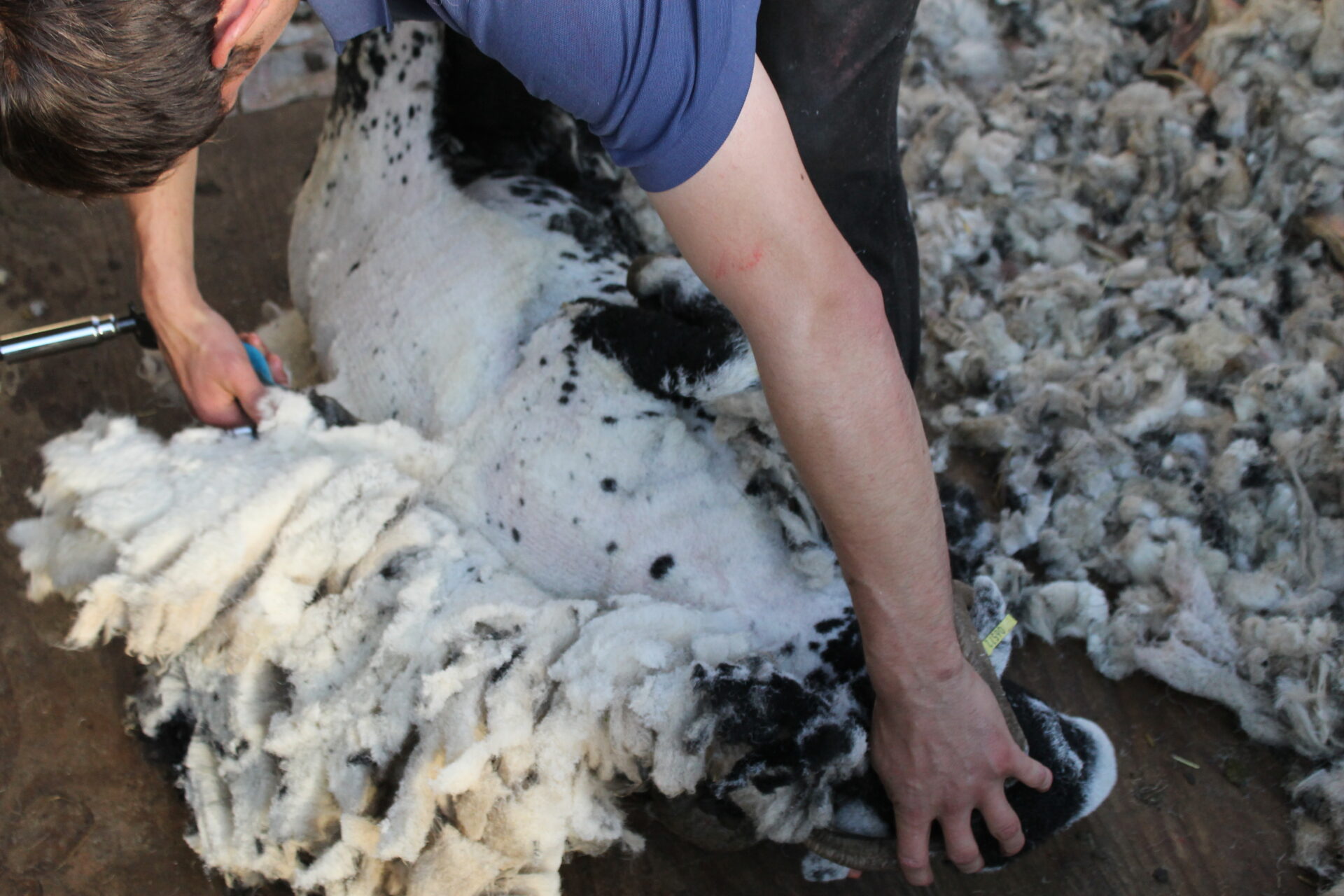 Son Edi does all the clipping whilst Stuart gathers the sheep and lambs in batches, sorts them,and gives both sheep and lambs a general health check.  It's a hard job, but a necessary one for welfare reasons.
Whilst things have been busy down on the farm, there has been plenty of activity and excitement at Granola HQ.
As well as fulfilling weekly orders, our plans for Christmas are progressing well and we can't wait to share our ideas and new products with you, and we should have more news on this next month.
At the beginning of the month, to celebrate Yorkshire Day, we joined with a host of other great Yorkshire brands in a fantastic Yorkshire Day giveaway competition.  The generous prize, which was won by Linda Watson was a fabulous hamper of Yorkshire produce.  We love a good giveaway, so keep your eyes peeled on Social media.
Last week we were thrilled and very proud to learn that we've been shortlisted for two fantastic awards.  The Garbutt & Elliott Yorkshire Food & Drink Business Awards for Manufacturer of the year and The Great British Food Awards in the Healthy Boost category with our Nutty Spelt Granola.   We'll keep you posted and let you know how we get on and in the meantime, we're all keeping everything crossed!
It's always a grand day out is Kilnsey Show!  In fact, it's arguably one of the best and most well-known shows in the north of England; but then as we're on home turf, I suppose we might be a bit biased!  It's a true Country show giving visitors the chance to experience and learn about life in the countryside.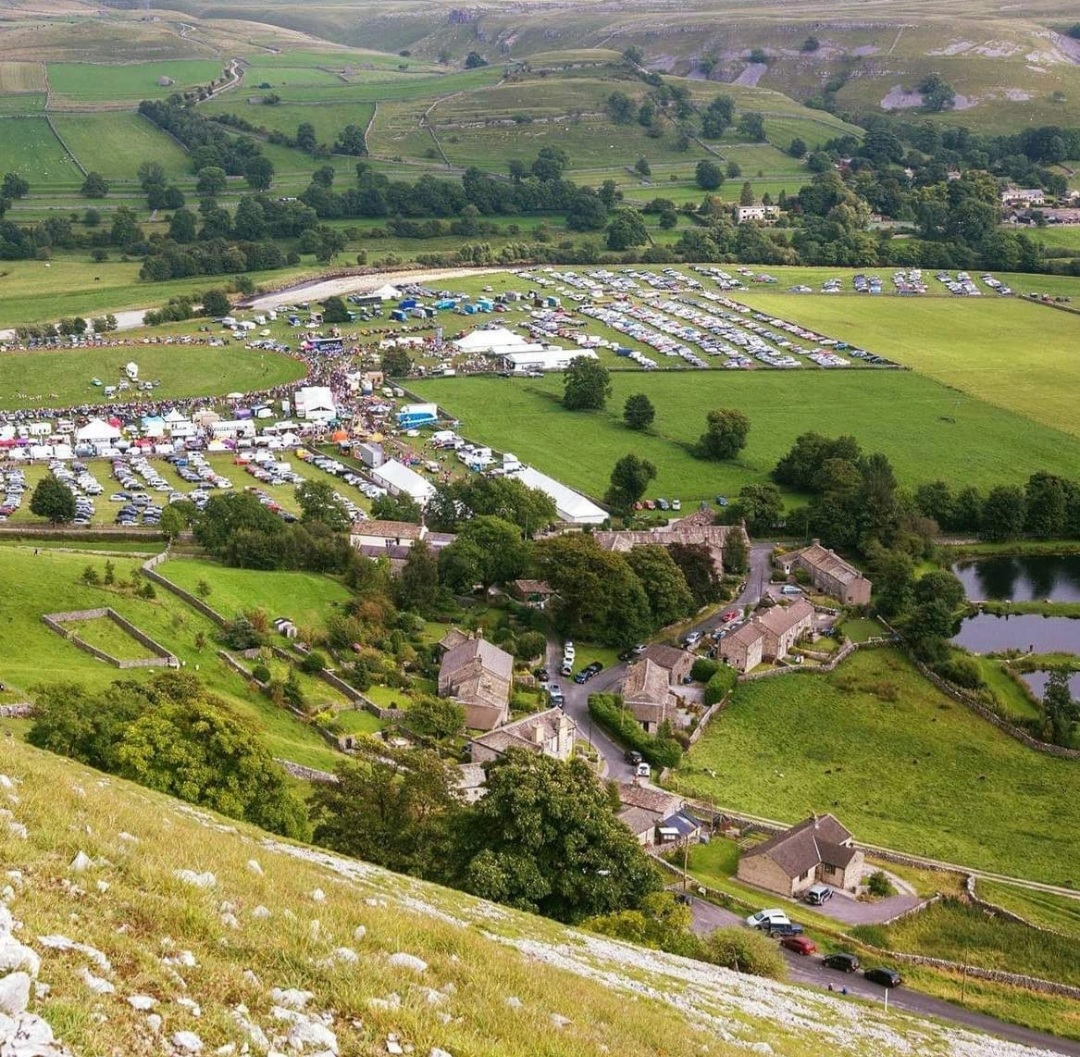 People come from far and wide to visit the show, which hosts keenly contested classes for livestock  a famous fell race, sheepdog trials, harness racing, a popular local produce and craft marquee and much much more.  All this goes on in the shadow of an impressive Limestone crag that has looked down on this exhibition of the best of the area since the inauguration of the show in 1897.
Stuart and Edi are stewards in the sheep classes and we also have a stall in the local produce marquee where we sell our cereals and also our popular Granola bars – a flapjack like slice made from our freshly rolled porridge oats.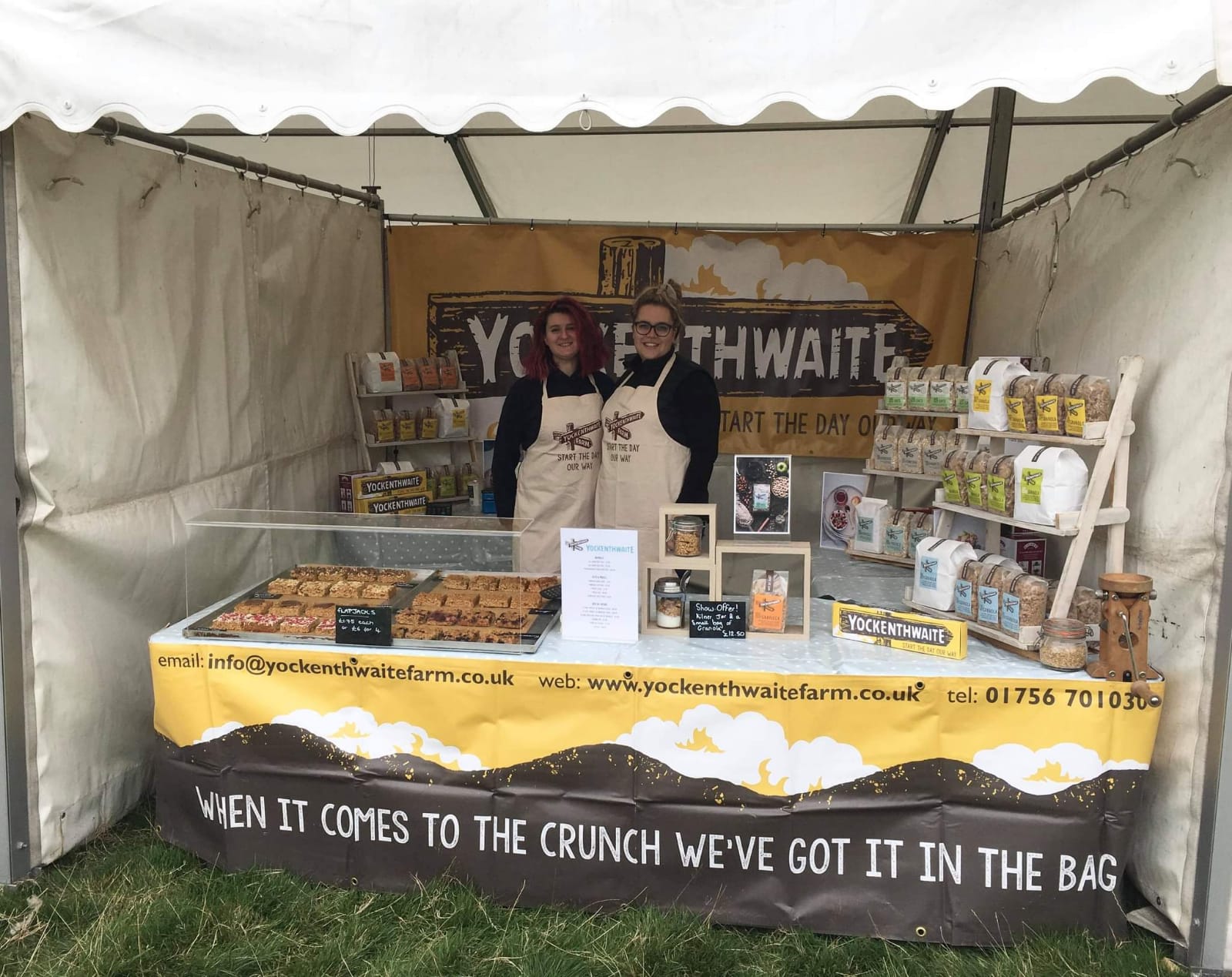 This year the show fell on the last day of the month and so August goes out with a bang! A great day, a family day and lots of happy memories.
Thank you so much to everyone who called by to see us, to say hello and to stock up with goodies, it was great to catch up again after so long, we were thrilled to be back.